Mt. Lyford Horse Treks
Mt Lyford Horse treks and all other Kate Tapley Horse Treks sites are now closed.

Kate will continue as "Kate Tapley - Natural HorseWoman" - more info here soon.

The phone and email on this page still work. You can contact Kate about customised events or clinics.
We offer short rides and overnight horse treks through native beech forest, tussock high country and river valleys amongst the Amuri Range between Hanmer Springs and Kaikoura in the heart of the Alpine Pacific Triangle.
Natural Horsemanship and Horse Trekking
We teach and apply the principles of natural horsemanship using the horse's own language. Mt. Lyford Horse Treks is operated by Kate Tapley, a leading practitioner of natural horsemanship. Kate and her team of qualified trek guides guide you in small riding groups on our trails. Each riding activity begins with a partnering up session where you learn how horses think, and how to build rapport, communication and leadership with your horse. This enriches your ride making it safer, rewarding and fun. We ride in natural rope halters. No bits. This promotes communication rather than force.

We offer:

You will Learn:
How Horses think
To overcome your fear of horses
To communicate easily with your horse
To develop confidence over varying terrain
Book your own Trek Guide or join a group.
Treks are suitable for adults, young people and children with all levels of experience. The horses are all naturally trained, kind, and chosen to suit you.
Gear provided includes helmets, gloves, chaps, some riding boots, long riding coats, extra warm clothes, cups of tea, lunch and saddle bags.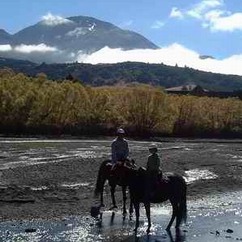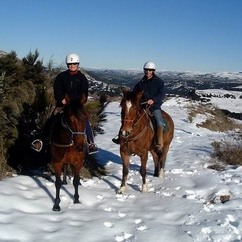 Contact Kate Tapley. I will be delighted to do all I can to make your riding happen for you and your party so it is memorable, inspiring and more than what you are after.
Hanmer Connection bus service: ph 0800242663