Horses We have known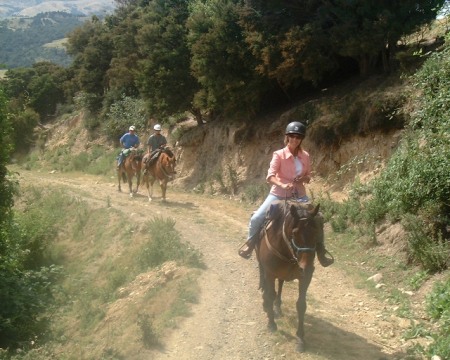 My name is Basil.
I'm not gone! Just moved on.
You may have ridden me at Mt. Lyford in the past, but in 2008 I was trucked down to Otahuna, and I have met up with some old buddies, Ginger Bear, and Peggy. Cathy and Kate reckoned my tendons would do better with shorter rides and less hills. Actually I really like doing the Otahuna Saddle Club with the kids and Abi. Abi makes the kids do everything properly and I love that. Humans are so much nicer when they know how to talk to us in the best way for us equines, and just look how much more you get from us.
I was born in 1995. My nickname is Basil Brick, because just look how broad my chest is. I am a short solid standardbred with very good paces, and a lot of stamina and surefootedness. The photo here is from my Mt. Lyford days. I am on my way to Hanmer Springs with my rider.
If you want to ride me come over to Otahuna!